The American Securities and Exchange Commission has sued Binance Holdings Ltd. and its Chief Executive Officer, Changpeng Zhao, for breaking US rules, Bloomberg reports.
The suit filed at a federal court by the SEC accuses them of breaking US rules but Binance CEO, Zhao in a tweet, said they are yet to get an official notification and would issue a response once the firm receives the complaint.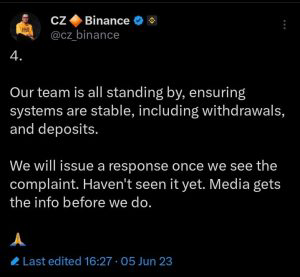 He said, "Our team is all standing by, ensuring systems are stable, including withdrawals, and deposits.
"We will issue a response once we see the complaint. Haven't seen it yet. Media gets the info before we do."
Following the news, the price of bitcoin has fallen declining 3.16% to $26,264 according to statistics from TradingView.