YAKUBU MOHAMMED went undercover for Xchange Hama Media in Bayan Gari, a slum in the heart of Bauchi, where activities of sex workers and criminal syndicates fuel 'catch and cash' operations by police operatives under the cover of darkness.
---
In the ever-busy Bayan Gari, even the innocent ones pay.
These were the words of Sani Alamin, one of the police officers who arrested and extorted our reporter in early June.
I, alongside two of my fixers, drove into the slum on June 8 around 9:00 pm. We were standing by our car when a group of five policemen [clad in blue-on-black uniforms] accosted and started questioning us.
While other officers surrounded us, Alamin frisked us, but he did not find anything. They would later profile us as criminals who came in to buy drugs.
"Ka kai su station," one of them who was fronting as the boss yelled in Hausa.
I didn't really worry about myself, but rather about my fixers who would likely be thrown behind the counter and then possibly in a cell.
Alamin then led us into our car and instructed us to drive eastward. He would later ask one of my fixers who was driving the car to park so we could negotiate our bail.
We parked adjacent to another group of black-uniformed police officers waiting to catch prey.
'WITH NO OFFENSE, YOU WILL BE TAKEN TO COURT'
"You understand me, see those people walking, they are going to arrest them. It is not a problem for a police officer to give you an exhibit," Alamin threatened.
"What do you want me to do to you? You see how they are doing it? Even though they are not part of us, that's how we do the arrests. And you must be given an offence and taken to court with it."
For the three of us, Alamin wanted N15,000 bail. Shamelessly, he settled for N3,500.
"How many are you in the car, okay you are three, your bail is N5,000 each," he said, claiming the team leader had already called the Officer-in-Charge.
"What do you want me to do to you now? I ask you to say what we should do to you so that you can go," he persuaded further. "You see he has called our OC, he has called the division, it is Area Command, do you know the place?"
But he lied. Further Investigations showed that Alamin and his colleagues are attached to Division C located at Tafawa Balewa Housing Estate.
"Just talk now. I swear to God he is going to accuse you of an offense and I swear he is to challenge each one of you. You understand me, I want to do something to you that instead of paying five thousand each for no offence, you understand, so I don't want it to reach that level or to waste your time. It is not my concern".
"N3,000 is small, just add N1,000 and go," he grumbled. But we only added N500.
That was the first and last time my fixers would go with me to Bayan Gari. I would later find another person — an insider — a few weeks after.
COMMUNITY POLICEMEN AS CATCH DOGS. ZONE 12 OFFICERS COLLECTING 'RETURNS'
In a group discussion with some Sara Sukas [political thugs], drug addicts and sex workers in the area, I understand that Bayan Gari is a money-making spot for the police operatives working hand-in-hand with members of the Police Community Relations Committee (PCRC).
When I visited the slum on August 9, two members of PCRC were seen harassing a young man they claimed had been caught with some capsules and marijuana.
He was later set free after greasing their palms. "Sometimes, the PCRC guys share the money within themselves," my new fixer, who had spent over 15 years in the slum, revealed.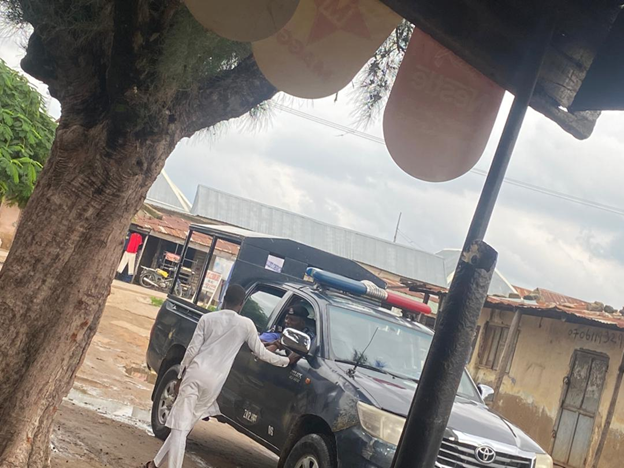 The sales boy negotiating with the Zone 12 police officers
The following day, I spotted police operatives driving in a black van with an inscription of Zone 12. They moved from one shop to the other "to collect returns."
"There are over 50 shops here and they go there to collect between N500-N1,000," my fixer explained, adding many of those shops sell hard drugs.
The officers drove to the next shop where a sales boy at the pharmaceutical shop refused to comply with them. "I was asked to bring N500, but this is not my shop and there is no reason I should pay the money," he said when I asked him what was the issue.
The sales boy negotiating with the Zone 12 police officers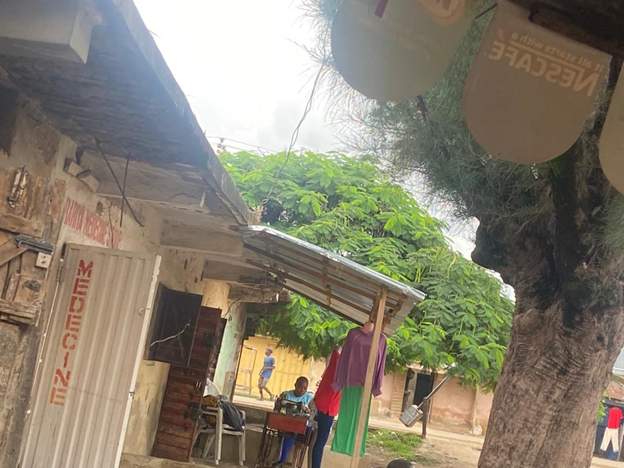 His pharmaceutical shop
BAD IN EVERYONE'S STORY
*Sani, a 27-year-old Bauchi-born notorious Sara Suka member, had been in the police net several times. He believes the police have made Bayan Gari a "money-making spot."
"I come here to enjoy myself, but police officers may just come and harass you whether you committed an offence or not," he lamented. "They come here after Maghrib prayer, which is around 7:00 pm. Even if they catch me committing an offence, I will just give them some tokens and they will release me. But if I have no money on me, they will humiliate me even if I didn't commit any offence."
Sex workers who I spoke to said the "unjust" arrest by the police kept their customers away from them. Some of them have boyfriends in the slum, though they are not also safe from the 'catch and cash' arrests.
A sex worker, *Fa'iza, who hails from Gombe State, said she has been living in Bayan Gari for 12 years.
Her words: "I am just managing here, even food is not easy to get. A plate is now N300, as it increased from N250. Sometimes we eat in the morning, sometimes in the afternoon and we have to pay the house rent.
"And police officers used to disturb us, as you are in the room with your boyfriend, police will come inside and arrest him, he will come back empty handed and like that, you will sleep having no money to buy food.
"So the police have been disrupting our business as those that used to come are afraid of arrest by police and even when they come, they will just be quick and go as they will be arrested without committing any offence."
"We used to pay #2,500 per week as rent for a room, There is one that we used to pay #1k every day, so the chippest is that of #2,500 per week."
I MET THE ALAMIN TEAM AGAIN AND I WAS EXTORTED FOR THE SECOND TIME
The other time Alamin and his men arrested me, it was late and my spy devices could not capture the moment except for an audio clip I managed to record. I have since been looking for him [to be arrested again, but in broad daylight so I could capture his face]
I'd asked about him in the slum and he was identified as Oga Sani. His patrol team would not be mentioned twice. Everyone knows them. The team lead, simply identified as Husseini, is an inspector coordinating the extortionate arrests, leading Buhari Gambo, Ukasha Sani, Alamin Sani and Faruk Zola.
It was some minutes to 4 p.m. when I ran into their team on August 10. Alamin took the charge again. At this time, he was on camera.
"What are you doing here," he grilled me, asking if I wanted to be arrested. I told him that I would like to be his friend and he immediately demanded that I give him something.
He searched my pockets after I told him I didn't have cash on me. We would soon end at a POS shop, where an offensive odour strongly oozed.
For Sani, I transferred N1,000 to the attendant and we parted ways.
When contacted, the Bauchi Police Command said they would not comment on our findings. Ahmed Mohammed Wakil said the police will not comment on something they know nothing about.
This publication is produced with support from the Wole Soyinka Centre for Investigative Journalism (WSCIJ) under the Collaborative Media Engagement for Development Inclusivity and Accountability Project (CMEDIA) funded by the MacArthur Foundation.