The Chief of Army Staff (COAS), Lieutenant General Faruk Yahaya, commissioned a state of the art gymnasium and swimming pool at Headquarters 3 Division Nigerian Army.
He said the edifice will complement the Government efforts at providing qualitative sporting facilities for personnel of the Nigerian Army (NA).
According to a group HQ Nigerian Army posted on Facebook, Gen Yahaya who was represented by the Chief of Standard and Evaluation Army Maj Gen S Muhammed commended the General Officer Commanding 3 Division and Commander Operation SAFE HAVEN for conceiving the project and ensuring it completion within his tenure in office as GOC.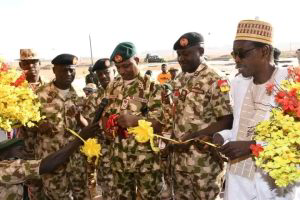 He charged the personnel to make sporting activities a hubby in order to improve their competitiveness in sport competitions. Adding that his decision to support the improvement of supporting activities in all Nigerian Army Barracks is premised on the resolve to make sporting activities a tremendous source of joy and energy to troops and members of their families.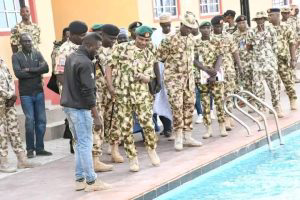 He further said the facility is significant to the health and fitness of personnel as well as assisting troops preparing for combat competitions to train for a successful outing.
The Chief of Army Staff further commended the GOC for his visionary leadership and laudable achievement achieved during his tenure and wished him success as he goes to take over as the Theatre Commander Operation HADIN KAI.
Speaking earlier during the welcome address, the General Officer Commanding 3 Division and Commander Operation SAFE HAVEN welcomed all present and disclosed that the Chief of Army Staff laid the first block on which the Gymnasium and Pool was built and thanked him for his continuous support to 3 Division.
Also speaking during the brief, the Deputy Director 3 Division physical Training Lt Col AA Olatoye said the gymnasium which has the male and female sections is equipped with 6 treadmills of 7 horse power, 6 electric exercise bike, 2 multipurpose machine, 4 total crazy body massagers, a leg press, a hip abduction machine, 2 sauna rooms amongst others. While the pool which is 4 feet deep at the shallow end and 8 feet deep at the deepest end is equipped with a water heater, underwater lights, and it's pavilion has a 170 spectator capacity.
The Commander 3 Division Garrison Brig Gen MO AGI while delivering the Vote of Thanks said the building of the gymnasium will not only improve troops welfare but also enhance competence in the field.
Highlights of the event was the tour of the facility, swimming demonstration by Private Joy Ogbolu, presentation of gifts and group photographs.